Denver market shows signs of slowing, but only slightly:

Keep in mind that in an overheated market, a "slowdown" might just make it a good market (for Sellers).
You can calculate an "Absorption Rate" by dividing the Active Inventory (7,530) by the monthly sales (3,732) = 2 months. Friends, that is still a really good absorption rate (3-6 months is "normal" . . . ).
Average and Median prices haven't changed that much, and it could just reflect where the activity is in the marketplace, e.g., fewer high-end properties were sold.
That increase in Avg Days on Market (6.9%) is only 2 days . . . so no big deal.
Bottom line: still a Seller's market; When pricing a home for sale, scrutinize the comps and make honest adjustments for condition and location. React quickly (30 days) if you decide it's overpriced.
Read More
Are we seeing any decline in Denver home prices?
Not yet. At this writing, we're seeing some seasonal slowdown – fewer showings – and that may have a temporary affect on pricing.
Inventory is up
This could impact prices, too, but if you think about it historically: remember that Denver had over 20,000 active listings for much of the 1980's.
Even if the supply gets all the way back to levels of 5 years ago, there's still a lot of demand.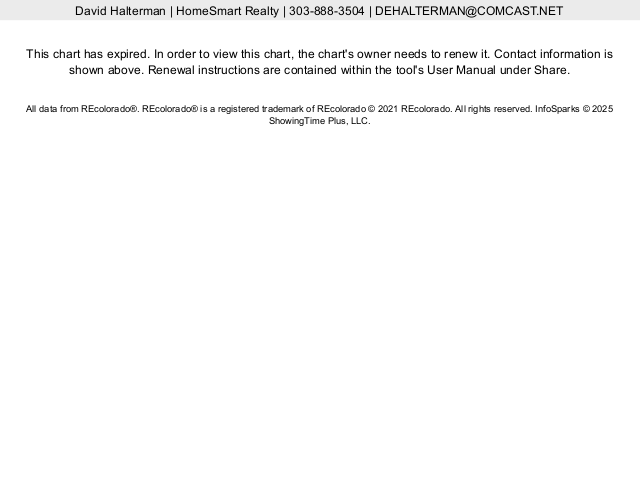 Read More
Changes in market conditions, mortgage qualifying and changes in the nation's economy have caused Millenials and Gen-Xers to have some anxiety about whether they will ever enjoy the benefits of homeownership. Some strategy and planning is called for. Here's a good summary of things to consider:
Read More
Research suggests that HOA's have an effect on home values – almost always for the better.
"Theory does suggest that  HOAs increase home value. The rights and responsibilities that come with an HOA affect a home's value, just as do the number of  bedrooms and the quality of the local schools.  A great house in a community with a poorly designed or badly managed HOA is a great house in a bad neighborhood." – Amanda Agan and Alexander Tabarrok , George Mason University.
The Downside
Since most homes built in America today come with an HOA, the rare negative effect might be where your monthly HOA fees are substantially higher than those for a similar home in another neighborhood.  We sometimes see this where there have not been adequate maintenance reserves collected over the years and they're having to play "catch up"; or when there has had to be a special assessment (because they didn't have adequate reserves).  In that case, the price will have to be lower to reflect the additional cost of ownership to the Buyer.  How much lower?  Well, you could take the difference in monthly HOA fees, use that as the payment toward mortgage principal at the prevailing rates, and calculate the amount of mortgage that would pay off over 30 years.  There's your price difference.
The Upsides
The advantages, although not as clear-cut economically, are
Covenants. Also called Deed Restrictions. These are rules creating standards for quality and appearance of the home and lot. They're usually enforced by the HOA.  Some people will bristle at the thought of anyone telling them what they can or can't do with their home, but consider that the characteristic of "conformity" carries only a positive connotation (and value adjustment) in the language of appraisal.  Hence, the fact that neighborhoods where all the homes look nice tend to sell for more. http://www.neighborhoodlink.com/article/Association/Value_Of_HOA
Local Control.  Part of the premise of having a HOA is that local residents can manage their neighborhood better than the various divisions of city government. That's why the HOA has control over streets, landscape maintenance, amenities, etc.  In fact, Denver Government even allows non-HOA neighborhoods to be an integral part of planning, development, code enforcement, variances, and other functions through RNOs (Registered Neighborhood Organizations).  In Winston Downs, we really have a RNO which has "HOA" in it's name. http://www.denvergov.org/maps/map/neighborhoodorganizations.
Some analysts even point to the rise in "Local Governments" (http://object.cato.org/sites/cato.org/files/serials/files/regulation/2005/9/v28n3-2.pdf), noting that HOAs lead the way in providing more individualized, cheaper and better quality services than can be provided by City and State agencies.
Placemaking and Community.  "Placemaking is a quiet movement that reimagines public spaces as the heart of every community, in every city. It's a transformative approach that inspires people to create and improve their public places. Placemaking strengthens the connection between people and the places they share."  http://www.pps.org/reference/what_is_placemaking.  HOAs are made up of neighbors, neighbors make a community, and communities strengthen and enforce shared values.  Strong communities help drive strong home values.
Winston Downs HOA
With all that said, the HOA (really an RNO) for Winston Downs Neighborhood is entirely voluntary, and at this writing a bargain at $15/year per family. The neighborhood doesn't carry any deed restrictions, so code enforcement is pretty much up to local government.  But the RNO is an active participant in organizing community activities, weighing in on local issues, schools, development and code variance requests which impact the neighborhood.  http://www.wdhoa.org/
Read More
The hottest price range in Denver is where the most sales are happening, where homes sell overnight and Sellers get multiple full-price offers. This is good information for both buyers and sellers: buyers need to know how competitive the market will be for them; and sellers can use this information to best position their home price for a quick sale.
Price Buckets
A price bucket is just a way to group products by price.  For example homes between $150-250,000 might be one bucket, $250-300,000 the next, etc.
You can make the buckets any increment you want, and it might be true that different areas have different hot buckets.  For example, in Denver, Metrolist divides Denver County into 5 geographic areas, and the surrounding counties are split up also.   Here are the geographic areas for Denver in MLS:
Notice there is a Northwest area (DNW), Northeast (DNE), etc. plus Downtown (DTD).  Although buyers and sellers often use zipcode searches (because some of the internet sites are set up that way), most brokers primarily use MLS Areas to begin a search, and it's also the way historical data (number of sales, prices, time on market, etc.) is collated in MLS.
What I'm suggesting is that you might want to make a list of  "buckets" for the MLS area in which your home is located.  Why?  Because they're going to be different for each area. Then when you list your $600,000 home in Northeast Denver, you won't be as surprises to find it's not getting the same activity as your neighbor who is priced at $350,000.
Denver Southeast (DSE)
Notice that the "hottest" price bucket in Southeast Denver is $250-350,000.  With about 450 sales so far this year, it's 50% stronger than the next best bucket ($350-450k).
 Northeast Denver
Now let's look north of Colfax Ave. and see that the hot price bucket is in a slightly different market segment.
In this area, the hot segment is $150-250,000.
Using Price Buckets in Home Pricing
Home Sellers might want to consider the distribution of sales when pricing or re-pricing their listing.  If you have a $675,000 home, for example, your odds of selling go way up if you move it into the next lower price bucket.
The owner of a $575,000 listing in Northeast Denver more than doubles their odds of selling by dropping the price under $550,000.
Read More
Metrolist reports that home sales are increasing at a faster pace than inventory levels are rising, indicating the Denver market remains undersupplied.
Average sold prices remained steady month-over-month averaging just under $310,000.

Read More